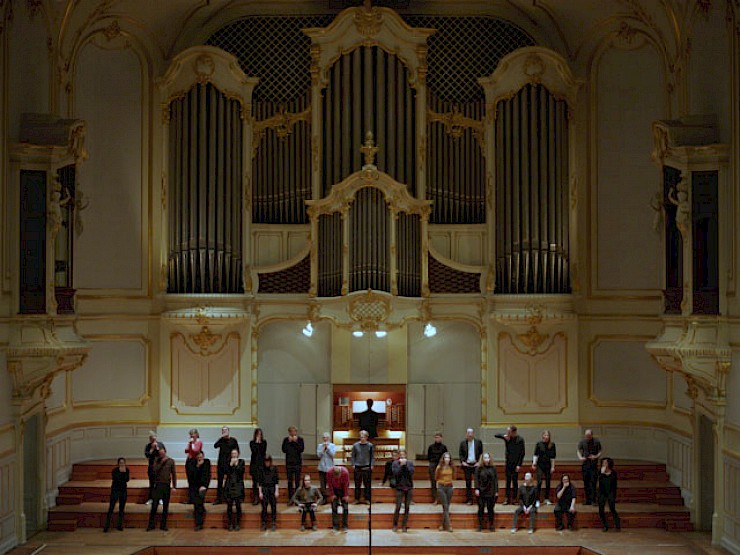 THE LORD LOVES CHANGES, IT'S ONE OF HIS GREATEST DELUSIONS
Sound:
Stereo oder Dolby Surround 5.1
Synopsis:
The lord loves changes, it's one of his greatest delusions is a video-installation commissioned for this exhibition and inspired by two pieces by Julius Eastman: The Holy Presence of Joan d'Arc and Gay Guerrilla, both referencing his engagement with spirituality and religion, which he studied intensively. Eastman seems to have been mistrustful of religious institutions; his thematization of the spiritual comes close to protest, as a call to rise up to overcome oppression, as a form of rebellion. As Annika Kahrs notes, in Gay Guerrilla for example he uses the theme and melody of the well-known Lutheran chorale A Mighty Fortress Is Our God, a piece considered to be the ultimate protest song of the reformation movement. The history of the song's compositions include multiple interpretations and adaptations by different composers throughout history. In Eastman's own version of the chorale, we find a constant shift that moves between the spiritual, religious and political, allowing for each element to be translated and re-interpreted within different power structures, capable also of being used against themselves. Kahrs' the lord loves changes, it's one of his greatest delusions engages with an organ, a choir and its components, slowly performing a deconstruction of rhythm and melody. Whistling performers confront the prolonged tone of an organ, moving between protest gestures and delicate formations of sound. In this performance, whistling intertwines with music to form a confrontation with its context of protest, creating a musical interaction of tensions.
Preview